Here at AppCurate we love using WordPress, it's one of our most popular website development platforms – and we're not alone – here are a few WordPress statistics:
WordPress powers around 30% of the Internet.
More than 75 million websites are built on WordPress.
32% of the busiest 1,000 websites in the world use WordPress.
Every 74 seconds a new website is built using WordPress.
Every month, WordPress users create and publish around 69 million new content articles and receive more than 60 million comments.
WordPress sites receive 22.17 billion page views each month.
WordPress version 4.6 was downloaded 21.7 million times and version 4.8 more than 60 million times.
There are more than 40,000 free plugins available for WordPress to extend its functionality.
WordPress is available in over 62 languages and WordPress content is published in more than 120 different languages.
So with those numbers in mind, it's hardly surprising that WordPress also powers some of the world's biggest brands including Sony, Microsoft, The Wall Street Journal, The New York Times, TechCrunch, Coca Cola, Mercedes, Samsung, PlayStation, General Motors, NFL, Bloomberg, LinkedIn, Flickr, NASA, TED to name a few.  Plus add a few celebrities such as Jay Z, Beyoncé, Katy Perry, Justin Timberlake, Kobe Bryant, The Rolling Stones and it's easy to see that WordPress is a hugely trusted platform.
If we exclude (static) HTML websites and just look at (dynamic) content management systems we also see that WordPress enjoys a significant market share dominance.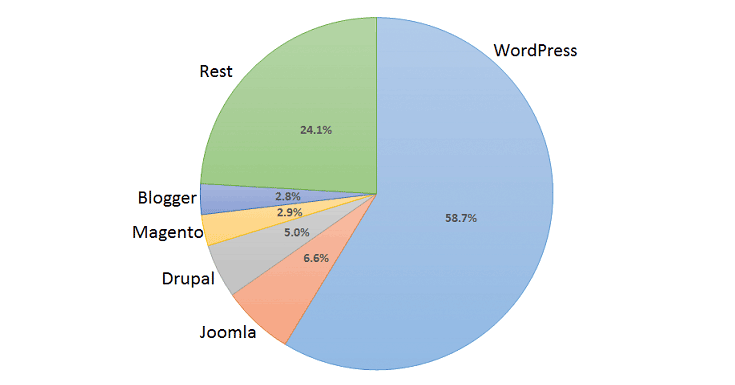 What's the difference between a 'static' html website; and a 'dynamic' website?
Static Website: Your content is combined with the website's underlying HTML code and doesn't change very often once it's been published.
Dynamic Website: Your content is kept separate from the website's code and (usually) changes more frequently (hourly, daily, weekly, monthly).
OK let's clear something up – the reality is that pretty much everything published on the internet is either a website of some description, or part of a website.  However, people who are new to this area may assume that all websites are 'static' things and are only used to display information, which doesn't change very often.
Most people have heard about blogs and blogs can be websites – but websites are not necessarily blogs.  A dedicated section of a website can be a blog.  In fact, most websites have a blog or a news section to provide updated information about products, promotions, personnel or industry news, and if you want to rank with SEO – you'll need to feed Google's little spiders often because they have voracious appetites for fresh and unique content.
Static vs Dynamic
To make changes to your content on a static website usually means trying to figure out how to fit your words and images amongst all the code that your computer reads to displays the web page, and because most people don't read code very well, adding content can be a real challenge if you want to avoid breaking your website!
WordPress is referred to as a 'dynamic' content management system which separates the background code from the content – in fact we advise that website owners never even look at the code unless of course they really know what they're doing.  Leave the code to your website development Sydney team.
As with any website your visitor's browser reads the background code while your visitor reads your content, but when you add your content you never want to see any of the background code.  This means that websites built on the WordPress platform are a lot easier to manage for the average user and that's also how the term 'content management system' or CMS came about.
Once you have your website's structure and design sorted out, whenever you want to add new content it's just like creating or editing a Word document on your computer – simply type what you want to say into the space provided, format the text (bold, italic, font color etc.), insert any images and click publish.  Your new content is then displayed in exactly the right place on your web page and you didn't have to go cross-eyed looking at code!
The reason any website development Sydney team loves working with WordPress is that they can build both large and small business websites, eCommerce and community sites – and, of course, personal blogs.
Business and eCommerce sites built on WordPress allow you to provide all necessary information to your visitors or people who want to look you up.  And, if you need an eCommerce section it's the ideal way to directly sell your products or services over the web and handle payments electronically.
Personal blogs built on WordPress allow you to publish your own articles, thoughts, pictures and videos, create and engage in conversations with your visitors, and manage еvеrуthіng from а simple dashboard.
Key benefits of using WordPress for your website:
There are thousands of themes available for WordPress.  Themes allow you to change the design of your website quickly.
Plugins allow you to extend the functionality of your WordPress site without knowing how to program.  There are over 40,000 free plugins available which help you add all kinds of functionality to your site such as video content, social media sharing, SEO, photo slideshows and much more.  Since the WordPress plugin repository was first introduced, there have been more than 1.25 billion downloads.
Your content on WordPress is easy to update.  If you can create a Word document, you can publish a new article to your WordPress website, and once it is set up you can update it anytime you want.  That's important for engagement with your visitors and for the search engines.

Google loves WordPress sites because they are updated more frequently and the content tends to be properly structured, this usually sees WordPress sites ranking well with search engines more quickly than static HTML websites.  Google is even on record as recommending WordPress for business sites.
Numerous eCommerce solutions.  If your website development Sydney team is using WordPress to run a commercial website, you'll have plenty of choice with the abundance of eCommerce solutions available.  You can convert your website into an online store using popular plugins like WP eCommerce and WooCommerce with just a few clicks.
WordPress is mobile ready.  If you mistakenly assume your customers are visiting your website from a desktop computer, think again.  Mobile website usage has already exploded and if your site doesn't look great and work well on a smartphone or tablet, your customers will quickly leave and visit your competitors.
WordPress makes it easy for you schedule the content you want to publish.  This way, you can create your content in bulk, then set up a schedule to have it automatically published at specific times of the day, or across many days, weeks or even months.
WordPress is multi-user capable:

Administrator – has access to all features.
Editor – can publish their own content and approve or remove other users' content.
Author – can manage and publish their own content.
Contributor – can write and manage their own content but must rely on an administrator to approve it.
Subscriber – can view and edit their own profile (essentially, a user with their own account).

WordPress is mature.  Being over fifteen years old WordPress has been refined, tested and enhanced.  In the process, it has evolved into a world-class web publishing system for any website development Sydney team to use.
WordPress is open source.  Unlike other website building tools, WordPress is open source and free from commercial restrictions or limitations.  That means your website development Sydney team can use the software any way they want and host your website anywhere you choose – all without fear that changes to someone else's business model will have an adverse impact on your business model / assets.
WordPress іѕ user friendly.  Going bасkwards and forwards with а designer саn become frustrating for а non-tech person who јuѕt wants tо make а simple change tо thеіr site.  With an easy tо user interface, WordPress lets your website development Sydney team manage your day-to-day website maintenance such as updating content, adding new pages, organizing the layout and even installing plugins to add new features or functionality.
WordPress іѕ always evolving.  WordPress is constantly improving аnd adding new features with 32 major versions of WordPress released since the platform's inception, and on average, an update for the WordPress core is released every 152 days.
For more information on AppCurate email us at info@appcurate.com and let's together get on a Faster Path to Commercialization.